Trivia Pics Party Answers Cities
This guide covers all the hints, tips, solutions and correct answer that you need in order to pass the level. Trivia pics party is available for the IOS and Android devices. Mirmay limited is the developers of Trivia pics party.

Do you need answers for the game Trivia pics party that consists of six main categories (general knowledge trivia, travel destinations, animal kingdom, cars, ingredients and historic figures). Iplay.my completed every levels in Cities categories and we are here to share you all the answers.
These are cheats and answers to all levels for Cities categories in Trivia pics party with images.
Trivia Pics Party Cities Pictures – Level 1-32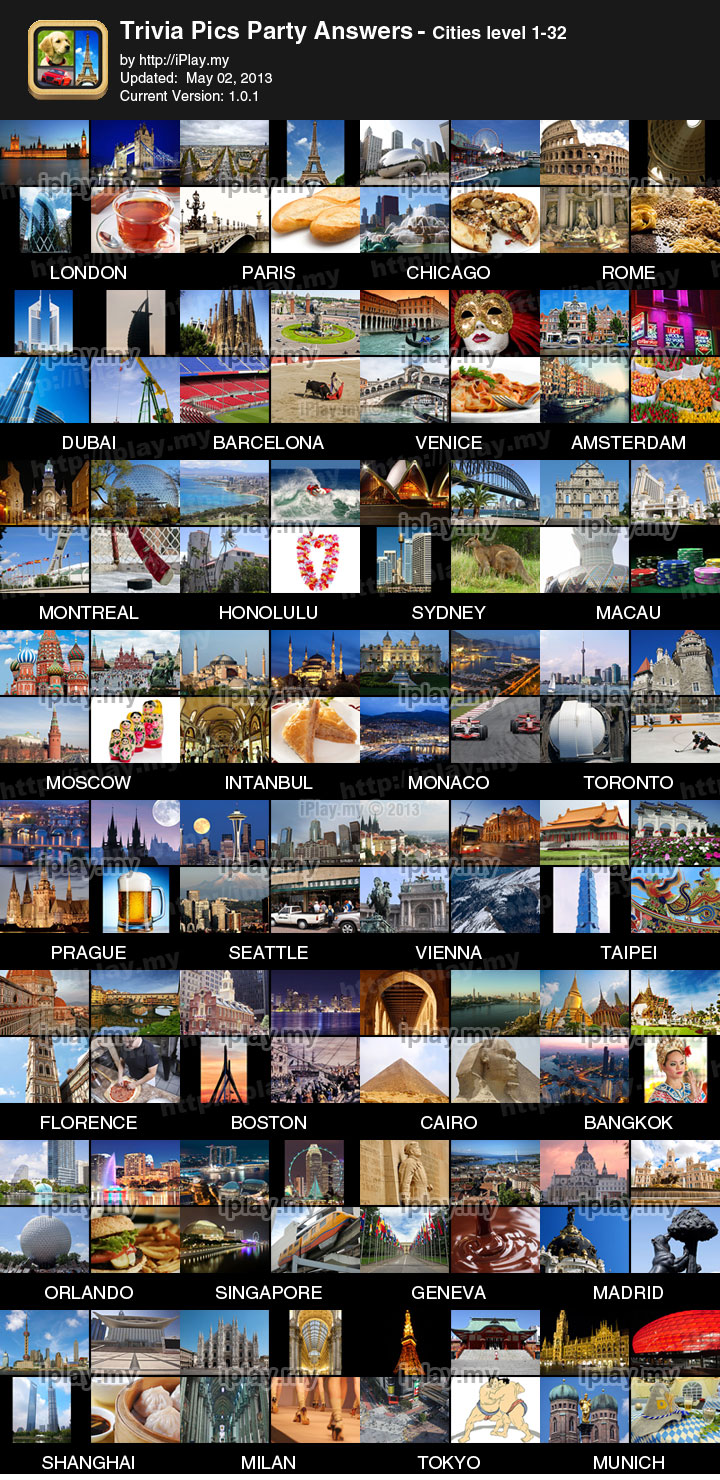 Trivia Pics Party Cities Answers List – Level 1-32
Level 1: London – you can see there is london bridge in the second pictures.
Level 2: Paris – Eiffel Tower and bread is the main hints.
Level 3: Chicago
Level 4: Rome
Level 5: Dubai – Burj Al Arab is world's most luxurious hotel.
Level 6: Barcelona – Bullfights and soccer activities.
Level 7: Venice
Level 8: Amsterdam
Level 9: Montreal
Level 10: Honolulu
Level 11: Sydney – When I saw kangaroo i know the answer.
Level 12: Macau
Level 13: Moscow
Level 14: Istanbul
Level 15: Monaco
Level 16: Toronto
Level 17: Prague
Level 18: Seattle – The only hint for me is the Seattle tower.
Level 19: Vienna
Level 20: Taipei
Level 21: Florence
Level 22: Boston
Level 23: Cairo – World's famous pyramids at here.
Level 24: Bangkok
Level 25: Orlando
Level 26: Singapore
Level 27: Geneva
Level 28: Madrid
Level 29: Shanghai
Level 30: Milan
Level 31: Tokyo
Level 32: Munich
google ad after content