Trivia Pics Party Answers Animals
This guide covers all the tips, hints, solutions and correct answer that you need in order to pass the level. Trivia pics party is available for the IOS and Android devices. Mirmay limited is the developers of Trivia pics party.

These are guide and answers to all levels for Animals categories in Trivia pics party with images.
Do you need answers for the game Trivia pics party in Animals categories? Iplay.my completed every levels in Animals categories and we are here to share you all the answers.
Trivia Pics Party Animals Pictures – Level 1-34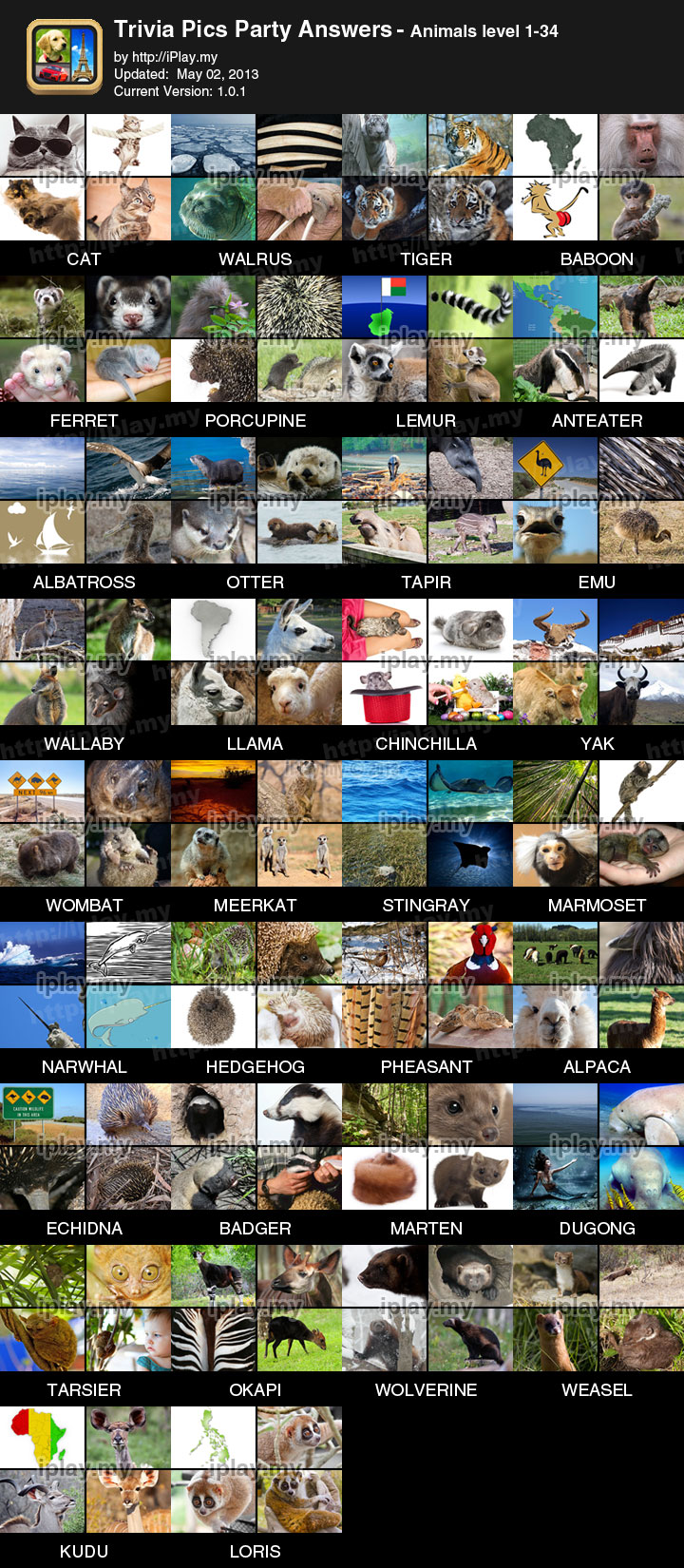 Trivia Pics Party Animals Answers List – Level 1-34
Level 1: Cat
Level 2: Walrus
Level 3: Tiger
Level 4: Baboon
Level 5: Ferret – mammal have brown, black, white, or mixed fur.
Level 6: Porcupine
Level 7: Lemur – from the pics given you will know lemur is from Madagascar.
Level 8: Anteater
Level 9: Albatross
Level 10: Otter
Level 11: Tapir
Level 12: Emu
Level 13: Wallaby
Level 14: Llama – Mammalia originated from North America.
Level 15: Chinchilla
Level 16: Yak
Level 17: Wombat
Level 18: Meerkat
Level 19: Stingray
Level 20: Marmoset – I thought they are monkeys but there are not.
Level 21: Narwhal
Level 22: Hedgehog
Level 23: Pheasant
Level 24: Alpaca
Level 25: Echidna – It knowns as spiny anteaters with spines to protect.
Level 26: Badger
Level 27: Marten
Level 28: Dugong – One of the larger mammal in the sea.
Level 29: Tarsier
Level 30: Okapi
Level 31: Wolverine
Level 32: Weasel
Level 33: Kudu
Level 34: Loris
google ad after content