Scratch Pics 1 Word Answers – 4 Letters
This guide provides all the correct answer that you need in order to unlock the levels. Scratch pics 1 word answers is available for the IOS and Android devices. Bonfire Media is the developers of Scratch pics 1 word. To play this trivia game, you just need to guess a word by scratching part of the pictures given.

Do you need guideline or hints for the game Scratch pics 1 word, which consists of nine main categories which is the basic pack, the super pack, the awesome pack, the smart pack, the mighty pack, the cool pack, the exquisite pack, the fun pack and the serene pack. Iplay.my completed every packs in nine categories and we are here to share all the solutions with you.
Iplay.my is going to provides the answers for all packs in 4 letters alphabetical order and revealed pictures. These are tips and cheats in Scratch pics 1 word with revealed images for 4 letters with alphabetical order.
Scratch Pics 1 Word – Answers
Scratch Pics 1 Word Answers – 4 Letters Page 2
Scratch Pics 1 Word Answers with Revealed Pictures – 4 Letters Page 1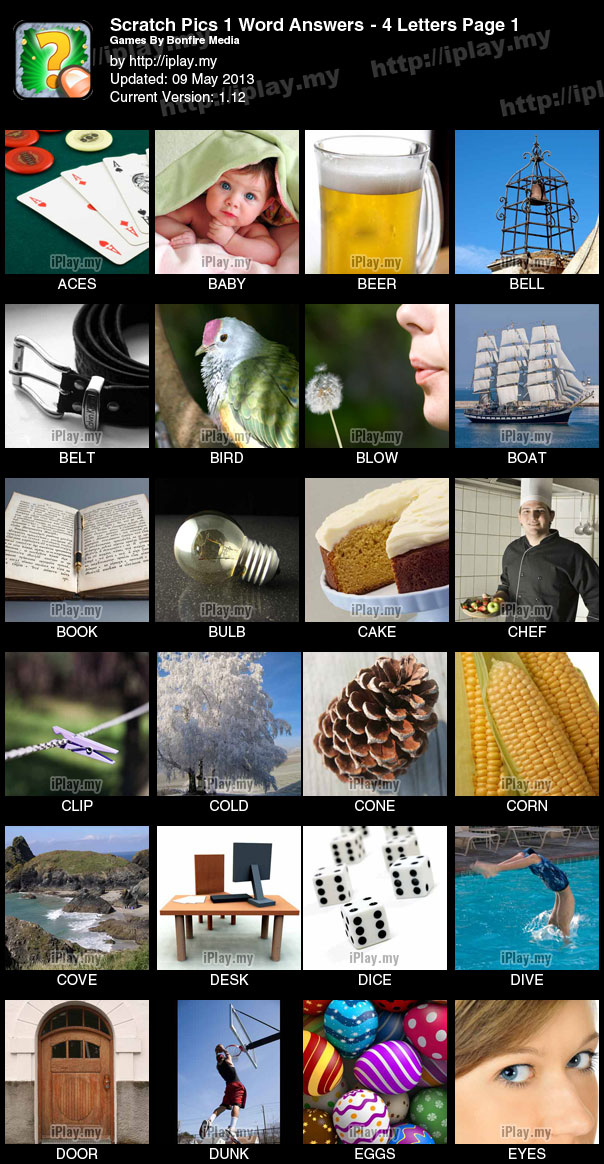 Scratch Pics 1 Word Answers Words List – 4 Letters Page 1
aces
baby
beer
bell
belt
bird
blow
boat
book
bulb
cake
chef
clip
cold
cone
corn
cove
desk
dice
dive
door
dunk
eggs
eyes
google ad after content