Pic Combo by Games for Friends GmbH
Pic combo is the latest word puzzle from the same creator of icomania and 4 pic 1 word. Two pictures will be provided in each puzzle and each picture will indicate one word. To solve the puzzle, you will need to combine the two words into one phrase. For example, they will show you two pictures which is "cup" + "board" then the answer is cupboard. Here I will share out Pic Combo all levels answers list with high quality pictures. Hope this guides can help you guys.

Pic Combo – Review
A challenging game that tested your ability on understanding and imagination. Try the game and welcome to browse my answer when you need help on certain level.
You can find the answers easily through my high quality pictures
Pic Combo Answers List with Pictures – All Levels
Pic Combo Answers List with Pictures – Level 1
Pic Combo Answers Pictures – Level 1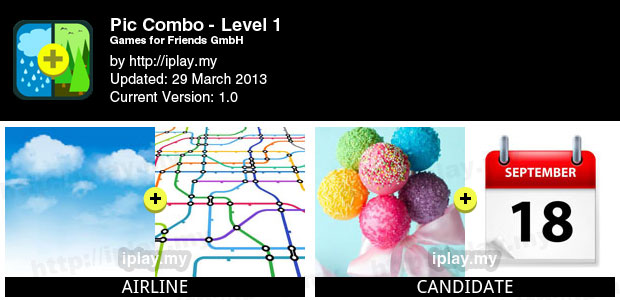 Pic Combo Answers Lists – Level 1
CANDIDATE
AIRLINE
google ad after content